As the weather shifts from boiling hot to a tempered kind of Fall-Summer hybrid, patios around the city become a sacred place. Patios are a communal kind of space where your weekly brunch group laughs over mimosas or where your family eats dinner as you watch the setting sun. Everyone on our team had something to say about their favorite patio but we had to work the list down to the following..
1. OKCMOA
The Oklahoma City Museum of Art has a rooftop terrace where they hold their "Art After 5" events every Thursday for $5. Often live music will be featured and there's always a cash bar.
2. The Union at SoSa
The Union is a bar located in SOSA. Seated upon a hill they offer a range of cocktails and the speakeasy in the basement is a definite to check out. The patio will soon be covered, but the portion behind the airstream will remain uncovered. If you haven't stopped by, the staff are friendly and SOSA is a wonderful neighborhood.
3. Barrio's Fine Mexican Dishes
This open-air patio makes you feel like you've been transported out of Oklahoma. The pink fireplace at one end and string lights overlapping overhead make this a great dinner spot.
4. Cheever's Cafe
Most of our staff said that this bustling OKC favorite felt private despite the amount of business it sees. The patio is typically pretty shaded and large shrubbery keeps the noise from 23rd to a minimum. We suggest visiting for brunch where you'll find excellent service and a great patio experience.
5. The Hall's Pizza Kitchen
Once a popular food truck, this family-owned business expanded to brick and mortar in 2017. The rooftop patio offers views of the downtown skyline and midtown with partial shade and cute planters hanging near-by tables. Not only that, they offer breakfast pizza in addition to traditional servings like "Saturday Night"– a pizza with pepperoni, sausage and basil.
6. Gorō Ramen
This Plaza District patio is nestled between Gorō and The Mule. This is a good patio for dropping temperatures as they pull out heaters and the buildings protect the patio-goers from the wind. Luckily, it's not that cold yet. The tables are all aligned in the middle and the height of the buildings create a unique aesthetic uncommon to OKC. Even better, the ramen they serve is a savory traditional type as if from Japan itself.
7. Classen Coffee Company
Classen Coffee Company is a newcomer to the scene. They are located on the West side of Classen Ave and North of Uptown. Most days they stay open until 10pm. We suggest heading over near sunset to enjoy the peaceful patio and a tea or coffee.
8. The Mantel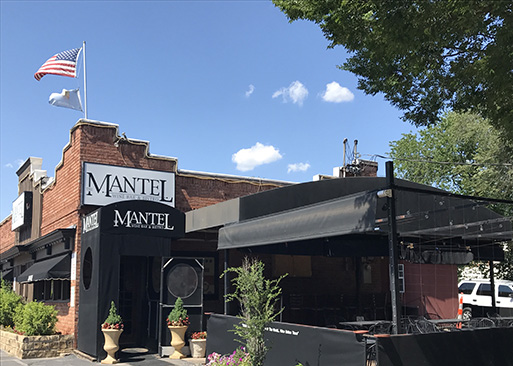 Frequently ranked as one of OKC's top romantic spots, this patio might be your best bet for a romantic date night out. Located in Bricktown an after-dinner stroll through the streets would be a great addition, except you might be too stuffed from the wonderful European-style food they serve here.
9. Flip's
The go-to spot for a glass of wine on any given afternoon. Flip's is sandwiched between prime shopping spots such as Classen Curve and West Elm. The patio is expansive making it a good choice for birthdays and other celebrations.
10. O Bar
Talk about a view. At the top of the Ambassador Hotel this bar has what is arguably the best view of the skyline. There are panoramic views as you walk the bar and when you step outside you get a view of not only Midtown, but also Downtown in all its glory. If you haven't been yet, you need to go.
So what do you think? What is your favorite patio in OKC?